External Services Group changes purchasing and supply chain practices.
Program exceeds expense reduction goal by 86%.
---
Strategic Intent
To comply with global corporate initiative, client must reduce operating expenses by 3% and improve zinc output by 3% in the current year. Objective is to lower procurement expenses by reducing external services cost and improving purchasing performance.
---
Situation
World's largest producer of zinc metal; owns 10% of market share
$4.1 billion in worldwide revenue and 4,000 employees
Supplies zinc and zinc products to the construction, transportation, infrastructure, consumer products and industrial machinery industries
Zinc demand increasing, while prices fall and costs rise
U.S. division president needs to improve on previous year's record production level.
---
Issues and Barriers
Numerous management changes negatively impact employee attitudes.
Cost of contract employees is significantly increasing and needs to be controlled.
Mid- and lower-level managers are becoming resistant to change.
Management lacks the time and ability to develop and implement the necessary changes.
---
Key Implementations
Create External Services Group to manage contractor utilization and productivity
Develop planning and scheduling process to control contractor work and improve their effectiveness
Elimination of non-controlled stock locations
Drive the return of unused parts from maintenance activities and improve overall inventory accuracy
Establish a vendor management review process to improve vendor pricing and service
Develop process for setting appropriate max./min. inventory levels
---
Results
Expense Reductions Exceed Goal by 86%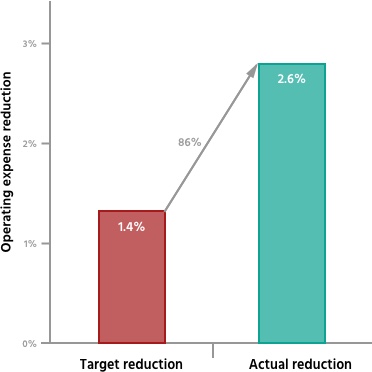 By creating the External Services Department to manage costs – and a vendor management system to identify potential material cost savings – Brooks International helps client achieve 2.6% reduction in O&M expenses. Project goal is exceeded by 86% and client is on their way to reaching the 3% overall corporate objective.
Parts waste is reduced by 2.4%.
MRP percentage improves from 39% to 72%.
Contractor utilization increases from 42% to 82%.
PO turnaround time is reduced by 50%.
Inventory accuracy improves from 91% to 97%.
Late deliveries are reduced by 68% per week.
---
Client Perspective
We've been able to move decisively toward a proactive, scheduled contractor workforce, and we have been able to establish supply chain practices and behaviors that serve the needs of our user community. Brooks has helped to plug the gaps in our Supply Chain System for Management.
— President, U.S. Operations