20% reduction in elapsed time to process claims
Customer care service levels improve 33%.
---
Strategic Intent
Capitalize on healthy growth potential, increase profitability and gain a competitive advantage by improving processes and procedures,reducing labor expenses and providing high-quality customer service
---
Situation
Privately-held U.S.-based multi-line property and casualty insurance company
Major product lines include non-standard automotive, homeowners', flood and liability products
Automotive product remains non-profitable after three years of existence
Homeowners' line generates profits, but the strain of rapid growth has stretched the organizational infrastructure
Employee growth exceeds revenue growth, cutting into profits
---
Issues and Barriers
Inadequate work processes, reporting relationships and skill levels jeopardized customer service for new policyholders
Goals and metrics do not adequately address productivity or service
Work processes contain high levels of redundancy and non-value-added activities
Inaccurate performance standards make valid capacity planning impossible
Overall productivity ranges from 40-60%
---
Key Implementations
Redesign all existing processes and procedures
Define "stretch" goals for all key performance drivers, including turnaround time, abandoned calls, cost per claim paid, productivity and processing errors
Develop capacity planning models
Develop accurate quality and productivity standards
---
Results
Brooks International enabled the company to combine Claims, Customer Service and Order Processing to facilitate speedy and effective customer handling. The results of the engagement include a 20% reduction in elapsed time to process claims and 33% improvement in customer care service levels. Additionally, the following improvements are realized: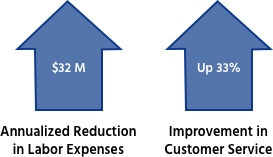 Supervisory spans of control increased 25-30%
Cost per claim paid is reduced by 10% in non-standard automotive
Accurate capacity planning and increased productivity contributed to $3.2 million reduction of labor expenses and realization of 400% ROI for this initiative in first year.
---
Client Perspective
We could not have made these process and behavioral changes without Brooks. Now, as a result of this success, other units in our company are anxious to embrace change rather than running from it.
—Senior Vice President, Corporate Services