15% reduction in payroll costs
Department productivity improves 30%.
---
Strategy
Implement a goal-driven management process that fuels continuous performance improvements, while satisfying patient and physician requirements at the lowest possible cost
---
Situation
200-bed acute-care hospital
Part of a large healthcare corporation
Earlier attempt to implement continuous improvement process was unsuccessful.
COO familiar with Brooks International's accomplishments in sister hospital and is committed to putting change in place.
---
Issues and Barriers
No measurable goals for patient satisfaction or service
Deeply flawed productivity measurement system
Significantly underutilized information technology
Equipment and personnel capacities consistently out of balance with patient workloads
---
Key Implementations
Reengineer and streamline primary core processes
Redesign management structure to improve spans of control and reduce cost to manage
Develop associate training program to allow cross-departmental movement to meet workload demands
Design and install goal-driven management process
Eliminate nonproductive management titles and positions
---
Results
300% Return on Investment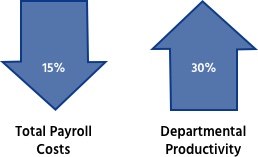 At the conclusion of the six-month initiative, the client hospital had significant and measurable improvements in patient care and physician service, while realizing these financial benefits:
15% reduction in payroll costs
Department productivity improved 30%
Total project payback exceeded goal by 25%
More than 300% ROI on project
---
Client Perspective
In summary, I am pleased with both the results of this engagement and the Brooks organization. Accordingly, I recommend Brooks to anyone interested in accelerating the payoffs from change – in terms of customer satisfaction and profitability.
— Chief Operating Officer