Productivity improves 12.8%; exceeds client's goal by 28%.
High level of service is maintained with 13% reduction in labor hours.
---
Strategic Intent
Maintain a 100% customer retention rate during phase of dramatic growth by providing high quality customer service, at lowest possible cost
---
Situation
Commercial laundry and linen service company with 38 facilities in North America
Processes over 455 million pounds annually for clients in healthcare, hospitality and other industries
Expanding rapidly through acquisition
Stretching their talent pool beyond its capability, leading to concerns that performance will suffer
Facing increased competition from smaller local operators and cooperatives
---
Issues and Barriers
Unacceptable levels of productivity throughout
Poor alignment of common goals
Cultural differences between management and employees
Lack of skilled process improvement drivers throughout organization
Varied compliance to existing policies and procedures across operations and locations
---
Key Implementations
Align and communicate goals to all levels of organization
Improve productivity by reengineering core processes in key operating areas
Develop front-line scheduling and production control elements
Increase proactive barrier resolution versus reactive problem solving among supervisors and managers
Improve management of labor resources to meet scheduled demands
Develop and install best practices
---
Results
Productivity Increases Exceed Client's Goal by 28%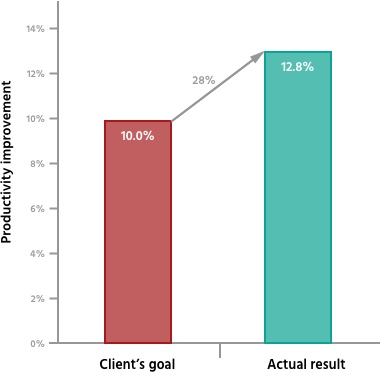 Installing a process to streamline integration of newly acquired laundries, Brooks International helps the company achieve these benefits:
Labor hours reduced by 13%
Productivity improves 12.8%; exceeds client's goal by 28%
The company is now prepared to handle continuing expansion, while providing their trademark quality service.
---
Client Perspective
I was looking for uniformity between our sites. Brooks has allowed us to get all sites (old and newly acquired) to operate with a set of common management tools.
—Senior Vice President, Operations