New car accessory sales grow 60%, exceed client goal of 30%.
Targeted vehicle lines increase by more than 80%.
---
Strategic Intent
Grow market share of the automotive accessories and parts market by increasing sales of dealer-installed, new car accessories at least 30% per vehicle line
---
Situation
$4.7 billion regional distributor of cars, trucks and automotive parts and accessories
Primary customers are 150 automotive dealerships in five states.
Car sales are growing, but accessory market share is stagnant at less than 10%.
Dealers are independent businesses with heavy focus on vehicle sales and lack motivation to sell more new-car accessories.
---
Issues and Barriers
Dealer relationships with small, local, after-market suppliers not sufficiently challenged by client
Poor communications with dealers – with little feedback about buyer needs and opportunities
Weak and ineffective sales plans
No focus on training and motivating dealer salespeople
Organizational boundaries exist throughout the process, resulting in unhealthy silo mentalities.
---
Key Implementations
Accessory sales plans and packages for three vehicle lines – including parts selection, vendor agreements, pricing and marketing tools
Establish baselines and plan targets for each pilot program dealership
Plan roll out, including dealership sales training and metrics, to pilot program dealers
Train entire client workforce on dealer incentive program, eliminating internal silos
---
Results
Accessory Sales Increase by Vehicle Line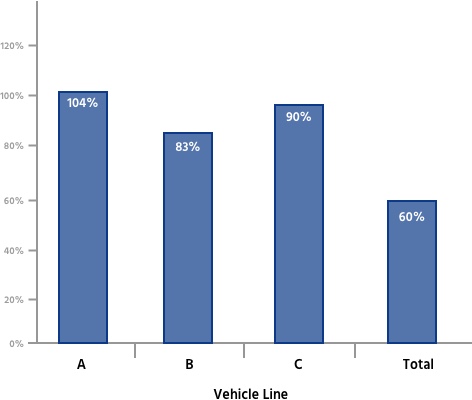 Accessory sales in pilot dealerships increased by 60% against the client's goal of 30% after only eight weeks.
Sales in the three targeted vehicle lines increased by over 80% each, with one actually doubling in volume.
Accessory sales force attrition to be cut in half.
More than doubled client's regional market share of accessory sales
---
Client Perspective
Brooks has taken us further in the accessory business arena than anyone ever has before.
—President & CEO
This (new volume) will help us with the erosion of margins we anticipate (this year) and will be a key contributor to sustained gross profit.
—Dealer Principal & General Manager