30% increase in maintenance productivity
Equipment downtime reduced 18%
---
Strategic Intent
Rapidly improve equipment utilization and operating consistency – and reduce production costs to save a poor-performing facility and 225 jobs
---
Situation
Leading manufacturer of water transmission products, primarily ductile iron pipe and fittings
$1.8 billion revenues in the United States, Canada and Australia
Industry undergoing capacity consolidations
After big investments, client's poorest-performing plant still lags behind and faces likely shut down.
EVP has keen sense of urgency about this initiative.
---
Issues and Barriers
Attrition has led to many new supervisors
Executive goals not communicated or understood
Maintenance primarily fire-fighting without effective planning or parts inventory control
Key metrics not linked to ownership or accountability
Core processes fail to focus on manpower planning, production scheduling or overall resource utilization.
---
Key Implementations
Establish and translate clearly defined SMART goals
Redefine supervisory roles and responsibilities and support supervisors with one-on-one coaching
Develop new metrics/measures with accountability
Establish plant-floor disciplines and expected behaviors
Develop expert models and best practices throughout
Implement new comprehensive system for managing – focused on work planning/prioritization, preventive maintenance, manpower allocation and sustainable improvements
---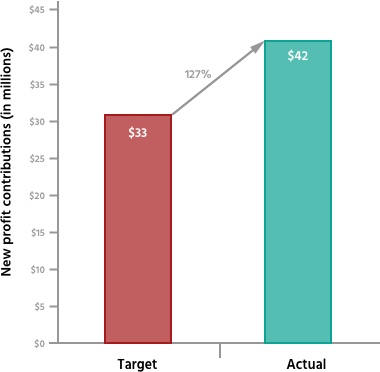 Results
Average Cost Per Ton Reduced 8%
As a result of engagement, cost benefits and new profit contributions of $4 million are realized, representing 129% of the engagement goal. Of even greater importance, plant is still operative and the 225 employees are still working.
30% increase in maintenance productivity
18% reduction of equipment downtime
8% reduction in cost per ton produced
---
Client Perspective
Bringing the cost per ton down gives us the breathing room to keep this facility going and to continue working on improving its competitiveness by upgrading the operations.
— Executive Vice President