Productivity and unit labor costs improve 19%.
New profit contributions exceed project goal by 25%.
---
Strategic Intent
Redesign and streamline management and business processes – preparing organization to handle the forecasted doubling of portfolio in two years
---
Situation
Top-tier mortgage bank
Subsidiary of top 10 U.S. banking parent
Rates ahead of competition in customer satisfaction, but trails industry leaders in servicing costs per loan
Has already consolidated from three centers to two, reducing staff by 15%
Needs to adapt to recent staff reductions
Must further reduce costs and prepare organization for planned portfolio growth without loss in service levels
---
Issues and Barriers
Poor goal alignment between top management and front-line associates
Lack of forecasts and adequate capacity planning
Significant individual performance variations within and between departments
Ineffective front-line supervision
Existing standards inaccurate and metrics are lacking
Core processes cumbersome and counter-productive
Rewards and recognition not linked to performance
---
Key Implementations
Conduct goal alignment process with 12 executives
Translate key goals to entire staff and associates
Establish new organizational structures in key departments
Redesign all core processes to eliminate non-value-added tasks and improve productivity
Establish comprehensive system for managing
Install expert models and competency management systems
Develop process improvement team for sustainability of outcomes
---
Results
The initiative, which paid for itself in only eight months, helped the client easily achieve forecasted revenue and profit objectives. Brooks International is further retained for two subsequent engagements, resulting in total client profit contributions in excess of $6 million and a combined (three-project) ROI of 450%.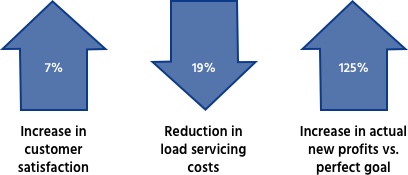 Productivity and unit labor costs improve 19%
Customer satisfaction levels improve 7%
Increased revenues from loss mitigation activities
New profit contributions exceed project goal by 25%
---
Client perspective
The tools that each manager now has as a result of their work with Brooks gives us all the ability to forecast staff requirements and measure performance. With the summary information I now receive, I can work on specific areas and develop my managers.
— Executive Vice President
I have been very impressed with the results of our work with Brooks and the way they stayed down to earth and focused on business goals. We have achieved improvements quickly enough that we should beat our acquisition goals for the year.
— Senior Vice President