Last but certainly not least in our ongoing discussion regarding our five Brooks International corporate core values is "respected, engaged and fulfilled employees." Stated simply, our employees are our greatest asset. The Brooks International leadership team and I respect and appreciate each and every employee and the many attributes they bring to the firm.
Having a large family (six children), I often regard our employees as integral members of the Brooks International family. We've created an organizational culture that places immense value on everyone's contributions. Brooks International simply wouldn't exist without the efforts of our valued team members.
As a performance-based, professional services organization, Brooks International provides a progressive career-path model that accelerates employee personal and professional growth. Our career-path model accelerates career growth based on the individual employee's performance and the number of engagements worked. For example, a candidate hired at the Associate Consultant level, who continues to perform proficiently, is on target to reach the Account Director level in a span of approximately 12 engagement cycles or four to five years.
Incentives aligned to our career model and clear-cut position profiles and goals, coupled with a substantial benefits package, provide our employees with an impressive, industry-leading rewards program.
Our client engagement teams focus on the execution of our clients' strategic imperatives, as well as instilling a culture of performance improvement and delivering tangible, measurable, sustainable value. All Brooks International employees embody leadership characteristics of intelligence, courage, trustworthiness, respect and discipline.
A Brooks International professional is:
Motivated by challenges – inspired to deal with difficult and complex problems, issues and opportunities;
Committed to client success – compelled to deliver outcomes that satisfy the client's requirements and more;
A champion – a client advocate at all times who ceaselessly focuses on the mission;
Collaborative – a team player, possessing talents that contribute to the effectiveness of others;
Creative – innovative and action-oriented to change; and
Character-driven – demonstrating moral excellence and firmness; ethical, honest and trusted.
We're fortunate to partner with many Fortune 500 and industry-leading organizations around the world, working at some of the most complex organizations and situations imaginable. It takes a high level of maturity, intelligence, strength and grace under pressure to be able to navigate this complexity. That's why we seek unique individuals who not only know what it takes to get the job done but will also go that extra mile to ensure success.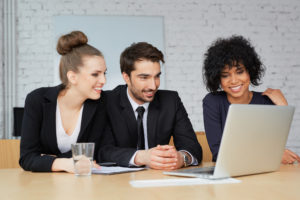 To meet the needs of our clients, Brooks International is deeply committed to developing our employees' skills and expertise. We recently revised our world-class orientation/onboarding and consulting training programs for all new hires and seasoned professionals alike.
In addition, our Director of Organizational Development Susan Houghton took the lead on reviewing and revising our training programs, particularly our "Spotlight Training Series" and our "Consulting 101" in-depth training program.
This effort in training and development will go a long way toward familiarizing our new employees with the company, making sure employees are fully trained and ready to hit the ground running, always keeping their business skills and knowledge current and to further develop our subject matter experts. In addition, through this training and development, Brooks International is continually grooming next-generation leaders who will help take our top-tier clients to new heights.
Our professional team members work hard day in and day out. Yet it's also important to have balance. That's why I encourage our employees to put their families first and prioritize their health and personal fulfillment. When time and opportunity allow, we also enjoy a high level of camaraderie and fellowship activities together with our work family, including participating in charitable endeavors, such as volunteering for Habitat for Humanity, as well as taking part in various group activities and sports, lunches and dinners, company meetings/conferences and other fun "extracurriculars." We love having fun yet the one thing we will never lose sight of as a company is our serious mission to serve our clients and achieve their strategic imperatives, delivering significant business performance and value in every engagement.
For more information about how Brooks International can help you achieve your strategic imperative and deliver sustained value for your organization, please explore our case studies, or contact us today to set up a meeting.