In this final post of my mission-driven leadership series, I will address the role of consultants and employees.
In prior posts, I wrote about how Brooks' leaders and managers actively lead our consultants and client staff to accomplish the client's mission on an engagement.
Employees are the third but equally important part of mission-driven leadership. While leaders administer quantitative accountability and embody the needs of those they lead, subordinates/employees serve the interests of the leader and the enterprise in alignment with the mission.
It's everyone's job in an organization to know what the mission is and to deploy in support of it. Becoming actively engaged in the corporate mission is beneficial for both the employee and the company. According to Chris Groscurth, Ph.D. of the Gallup Organization, "Humans, not process, enable organizational/corporate performance."
Gallup research across 192 organizations, representing 49 different industries in 34 countries, found that as employees move past the basics of employee engagement and view their contribution to the organization more broadly, they are:
More likely to stay at their company;
Take proactive steps to create a safe environment;
Have higher productivity; and
Connect with customers to benefit the organization.
A clear mission helps to inspire employee engagement, fosters customer engagement and helps boost company engagement overall.
On client projects, our consultants apply mission deployment and role clarity using the Execution Excellence Model, which helps build the infrastructure required to create a highly performing organization.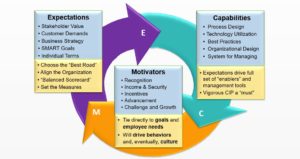 By using the Expectations, Capabilities and Motivators (E-C-M) approach, consultants will:
Confirm the client's mission and core strategies;
Define and document driver trees for each core strategy;
Document primary accountabilities and responsibilities for each role;
Identify and develop key measures for each role;
Upgrade and create position profiles and key measures; and
Create scorecards for each role and link the roles to the client's HR performance management system.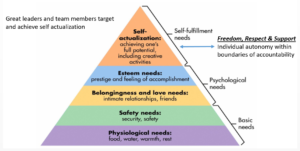 Through the Brooks International E-C-M methodology, our consultants deliver to client individuals autonomy within the boundaries of accountability, and help them achieve self-actualization (their full potential). This concept is known as Maslow's Hierarchy of Needs, pictured above.
Some of the methods of organizational development that help drive impact on client engagements include:
the pre-work-up – getting to know the team, identifying motivators and personal agendas;
holding personalized and interactive coaching sessions;
giving out pre- and post-session assignments; and
following up the sessions with one-on-one coaching and reconciliation.
In summary, mission-driven leadership is the key driver of organizational performance. Everyone in an organization (leaders, managers and employees) has a role to play and must understand the company's mission. Embracing the mission drives loyalty throughout the organization, fosters employee and customer engagement and improves strategic alignment and clarity of purpose and judgment. Finally, connecting work behaviors to the company's ultimate mission is measurable in both performance and the level of employee engagement.
For more details about how Brooks International deploys mission-driven leadership, please contact us today.