Brooks International promotes Jacob McAuliffe to Managing Analyst
WEST PALM BEACH, FLA. – May 17, 2018 – Global professional services firm Brooks International (https://brooksint.com) announces the promotion of Jacob McAuliffe to Managing Analyst. As Managing Analyst, Mr. McAuliffe will support Brooks International's Assessment team and Executive Analysts by securing that the company's approach is fully understood by clients. He'll also be tasked with developing and deploying the "findings" study plans, team assignments and benefit sources. In addition, he will assist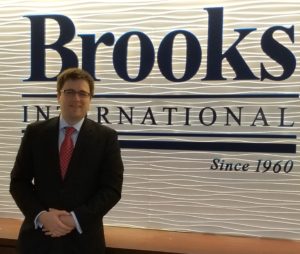 with the study outcomes and benefit certification, maximizing the conversion of assessments into implementation engagements.
Mr. McAuliffe began his career at Brooks International more than six years ago as a Business Development Analyst and made the transition to the Operations Department, where he served as a Consultant and eventually as a Senior Consultant. He has contributed to numerous client engagements, leading successful assessments and implementations in a wide variety of industries, including aerospace, construction, manufacturing, oil and gas, security services, telecommunications, customer service and transportation/logistics.
His skills include financial analysis, data design and performance measurement, which have helped to bridge the divide between operational and financial levers for many clients. He serves as an internal and external resource for financial modeling and developing the line of sight to the financial benefits. "I'm excited about the future at Brooks International and looking forward to continuing to serve our clients in this new role," said Mr. McAuliffe, who has a B.A. in Economics from Brown University.
"Congratulations to Jacob McAuliffe on his well-deserved promotion to Managing Analyst," said Brooks International Chief Executive Officer Lui Damasceno. "Jacob has become our 'go-to' team resource for data analytics and insights at Brooks International. He's already contributing to our success and I look forward to his future accomplishments in his new role."
ABOUT BROOKS INTERNATIONAL:
Headquartered in West Palm Beach, Fla., with locations in Canada, the U.K. and Europe, the award-winning, global professional services firm Brooks International delivers significantly enhanced profits and predictable business performance to its Fortune 500 clients worldwide. They achieve their CEO clients' strategic imperatives by linking financial and operational models, and dramatically enhancing all execution methods, competencies and capabilities. Brooks International delivers substantial and sustainable, organizational, operational and financial improvements, specializing in execution performance capabilities across all industries and sectors. Visit www.brooksint.com, call 561.214.8800 or connect on Facebook or LinkedIn for more details.
###